Ok, this is by no means a thread that will give a definite answer to the origins of Zeybek, a dance that is very popular in Turkey and Greece. However, accidentally I managed to dig deep to some forgotten legends that will itch you mind a bit. I can end up sounding too romantic here, but don't take it that seriously. Just a simple research I did and some results I want to share. So, here we go...
If I have to choose a favourite nation from ancient Anatolia, that would be the Phrygians. It is a lost nation that I simply fell in love with. Everything started with my decision to make a linguistic study on the Phrygian language and right now it has become a field I posses better than most historicolinguistic matters. This research turned out to a whole project, study of their religion and customs. I even decorated my house with a statue of Cybele.
Now, to the point... While studying some Phrygian inscriptions, a random word came to my mind. Zeybek... I asked my wife who is Turkish if there's a solid etymology of it in Turkish. She said it doesn't make much sense, like making it a composite word or something. It used to be referring to a group of people. There was a bell ringing in my mind so i decided to make a search for it...
My first hit was
Sir William Ramsay's
book "
Asianic Elements in Greek civilization
". Definitely a reliable man, if you need info on Anatolian matters... His definition of a Zeybek was:
"A zeybek is, or used to be, a dashing young Turk of the mountain country fringing the Maeander valley, dressed in an exaggerated native style, with an armoury of lethal weapons displayed on his person and in his hands or waistbelt".


While having an etymological theory on my mind, those lines gave me more hope in what I was expecting to discover. I had two keywords...
Maeander valley
and people bearing
armoury
... After searching further I got more info where Zeybek is the name used for people of the Anatolian highlands (
mountaineers
).
The Buyuk Menderes river
(Maeander) is a river in Turkey that has it source in Phrygia. The armoured men, reminded my of the armoured Phrygian dancers, followers and high priests of Cybele. I'm referring to the Korybantes of course, that are referred in some Greek traditions as the first humans on earth. In some traditions they are referred as descendants of the Idaean Daktyls,
mountain daemons
of Crete and Phrygia!
This religious group of dancers was well known in the ancient world. They were
bearing armour
and were moving with
slow steps
,
stretching their arms
from right to left. The custom spread and passed onto the Dionysian and Kabeirian cults of Samothrake.
Before revealing my initial thought that rang the bell on my mind, I remembered another legend of Thrace. A Greek-Turkish friend from Thrace had alerted my some months ago about some rock cuts next to a tomb, which the locals call "the tomb of Orpheus". It is generally known as the rock cut of Gonikon in Thrace. It depicts various symbols and figures that look like people dancing with arms stretched. This is one of the pics he sent... One local from Gonikon, once wrote a report on the rock cuts and claimed it was a religious dance that might have looked like Zeybek.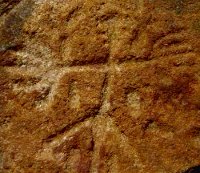 In any case, my initial thought was
Zey
...Generally this kind of prefix connected with
life
in Phrygian. Whether that is Zeus the life-giver, zeira (children) or zos (living). So, there I was, I did a search on "
life
", "
soul
" and "
zeybek
".
To make the list of sources smaller, I found amongst others an input on the The Cornhill magazine from 1957 saying about Zeybek:
"The word itself is probably Phrygian, a compound of the god ZEUS (ZEY) and the word for BREAD (BEKOS). It is taken to symbolise in this way a sought-for union of the spirit with the body, the godhead with mankind"

I wouldn't ofcourse take that for a given thing, but for sure the research ended up to be an interesting dig up.


Edited by Flipper - 16 Jan 2011 at 08:26